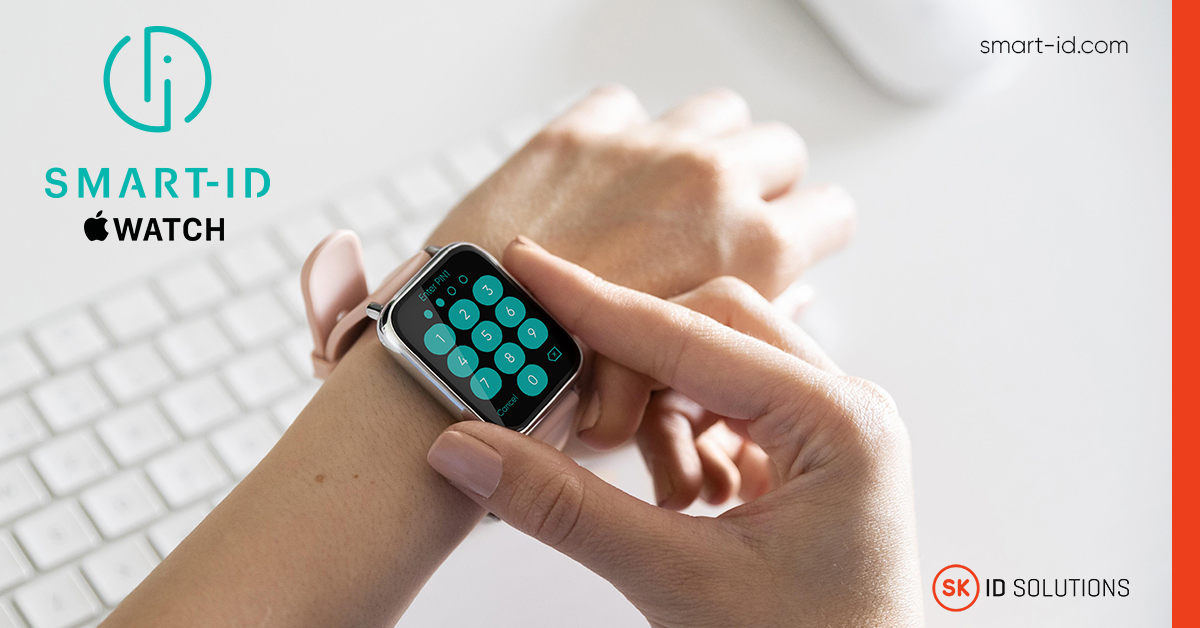 In response to the wishes of the Baltic residents, SK ID Solutions has now finalized Apple Watch support for the Smart-ID app, making electronic signing and authentication even more convenient. The solution does not require the installation of a separate application.
SK ID Solutions is constantly learning the needs of Smart-ID users, and one of the findings was that users missed having Smart-ID on their Apple Watch. The new feature will allow Apple Watch users to both authenticate and sign electronically, e.g., when working on a computer and having no smartphone at hand.
The new feature is as secure and intuitive as on smartphones. Apple Watch will display a flow of transactions, like PIN entry dialogue to confirm the transaction when using Smart-ID. The risk of changing or deleting the user's account information from the watch is eliminated. For enhanced security, Smart-ID users on Apple Watch are advised to set a passcode on the watch. The feature will only be usable in tandem with a smartphone where the Smart-ID app is installed. This means that both the phone and the Apple Watch should be connected to the same WiFi or Bluetooth.
"Expanding Smart-ID to Apple Watch marks a significant milestone in our commitment to user convenience and accessibility. With this feature, we have made authentication and electronic signing even more seamless, given the widespread usability of Smart-ID and the fact that it has been endorsed by more than 1000 e-services, including the 12 biggest Baltic banks," said Sanita Meijere, Head of Business Relations at SK ID Solutions.
This year, Smart-ID reached 5 million active accounts in the Baltics. It demonstrates the increasing acceptance of digital services by Baltic businesses and the digital inclusion of citizens as such, as well as showcasing the widespread multi-device and cross-border usage. In 2023, the highest ever number of transactions made with a Smart-ID tool has been reached at 85 million in a single month, meaning that 85 million times people signed the documents, confirmed payments, scheduled a doctor's appointment, logged into the governmental services, etc. SK ID Solutions foresees that the new feature will enhance Smart-ID accessibility and broader adoption. But only users can confirm if the goal was reached; SK ID Solutions is actively monitoring the usage and the feedback from the users.